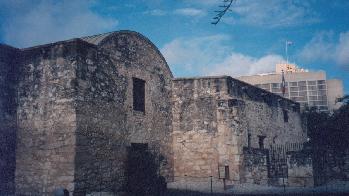 The rear of the shrine at the Alamo
San Antonio, TX


Alphabetical Listing of U.S. Forts
Last updated 2/5/08

Abercromie - Kodiak, AK
Abraham Lincoln - Mandan, ND
Adams - Newport, RI
Adams [J.M. Gould]
Advanced Redoubt - Pensacola, FL
Atkinson - Fort Calhoun, NE
The Alamo - San Antonio, TX
The Alamo [Mario Paesani]
The Alamo [de Parras]
Amanda - Wapakoneta, OH
Anderson - Wilmington, NC
Apache - Fort Apache, AZ
Apple River Fort - Apple River, IL
Arbuckle - Davis, OK
Atkinson - Fort Calhoun, NE
Atkinson - Fort Atkinson, IA
Barrancas - Pensacola, FL
Barrancas [NPS]
Barrancas [GORP]
Barton - Tiverton, RI
Battery Warren - Honey Hill, SC
Bayard - Washington, DC
Bedford - Bedford, PA
Bedford [Larry D. Smith]
Belknap - Newcastle, TX
Belknap [Prestige Group]
Benjamin Hawkins - Macon, GA
Bent's Old Fort - La Junta, CO
Benton - Patterson, MO
Blair - Desdemona, TX
Blakeley - Spanish Fort, AL
Boise - Parma, ID
Boonesborough - Boonesboro, KY
Bowie - Bowie, AZ
Brady - Sault Ste. Marie, MI
Brady [James Brennan]
Brady (new) [James Brennan]
Branch - Hamilton, NC
Brewerton - Brewerton, NY
Bridger - Fort Bridger, WY
British Fort (Gadsden) - Sumatra, FL
Buenaventura - Ogden, UT
Buenaventura [State of Utah]
Buford - Williston, ND
Buford [PBS]
Buhlow - Pineville, LA
Bunker Hill - Washington, DC
Caroline - Jacksonville, FL
Carroll - Soller's Point Flats, MD
Casey - Coupeville, WA
Casey [State of WA]
Caspar - Casper, WY
Castillo de San Marcos - St. Augustine, FL
Castle Clinton - Manhattan, NY
Castle Pinckney - Charleston Harbor, SC
Chadbourne - Bronte, TX
Cheat Summit - Huttonsville, WV
Churchill - Silver Springs, NV
Clark - Brackettville, TX
Clatsop - Astoria, OR
Clinch - Fernandina Beach
Cobun & Wade - Port Gibson, MS
Columbia - Chinook, WA
Columbia [State of WA]
Colville - Colville, WA
Concho - San Angelo, TX
Concho [LWF Publications]
Connah - Ronan, MT
Constitution - New Castle, NH
Constitution [Phil Payette]
Cove - Cove Fort, UT
Craig - Socorro, NM
Crawford - Prairie du Chien, WI
Crockett - Galveston, TX
Croghan - Burnet, TX
Cummings - Deming, NM
Custis - Kiptopeke, VA
Dade - Egmont Key, FL
Dakota - Sioux Falls, SD
Davidson - Pilot Knob, MO
Davis - Fort Davis, TX
Dearborn - Chicago, IL
Dearborn - Rye, NH
De Chartres - Prairie du Rocher, IL
Defiance - Cairo, IL
Defiance - Estherville, IA
Defiance - Defiance, OH
Defiance - Window Rock, AZ
Delaware - Delaware City, DE
DeRussy - Marksville, LA
DeRussy - Washington, DC
DeSoto - St. Petersburg, FL
DeSoto [cent.com]
Dobbs - Statesville, NC
Dodge - Dodge City, KS
Donelson - Dover, TN
Donelson [NPS]
Douglas - Salt Lake City, UT
Drummond - Drummond Island, MI
Duffield - West Point, KY
Dummer - Brattleboro, VT
Dupont - Washington, DC
East Martello Tower - Key West, FL
Ebey - Whidbey Island, WA
Edgecomb - Edgecomb, ME
Edwards - Capon Bridge, WV
Ethan Allen - Essex, VT
Fetterman - Douglas, WY
Fillmore - Las Cruces, NM
Fisher - Kure Beach, NC
Flagler - Marrowstone Island, WA
Foote - Oxon Hill, MD
Foote [NPS]
Fort #2 at Yellow Bayou - Simmesport, LA
Foster - Kittery Point, ME
Frederica - St. Simons Island, GA
Frederick - Big Pool, MD
Fred Steele - Sinclair, WY
Funston - San Francisco, CA
Gaines - Dauphin Island, AL
Gaines [Andy Bennett]
Gates - Gatesville, TX
Gibson - Fort Gibson, OK
Glenn - Umnak, AK
Gorges - Portland, ME
Grant - Fort Grant, AZ
Greene Ville - Greenville, OH
Griffin - Albany, TX
Griswold - Groton, CT
Griswold [CT Dept. of Envir. Protection]
Halifax - Winslow, ME
Hall - Pocatello, ID
Hall [Replica Commission]
Halleck - Elk Mountain, WY
Halleck - Elko, NV
Hamilton - Brooklyn, NY
Hamilton - Hamilton, OH
Hancock - Sandy Hook, NJ
Hancock [NPS]
Harmar - Marietta, OH
Harrison - Richmond, VA
Harrod - Harrodsburg, KY
Hartsuff - Burwell, NE
Henry - Wheeling, WV
Henry [Ed Sanders]
His Majesty's Fort - Crown Point, NY
Holmes - Mackinac Island, MI
Humboldt - Eureka, CA
Hunt - Alexandria, VA
Hunt [Phil Payette]
Hunter - Fort Hunter, NY
Independence - Castle Island, MA
Inge - Uvalde, TX
Jackson - Triumph, LA
Jackson - Savannah, GA
James White - Knoxville, TN
Jefferson - Fort Jefferson, OH
Jefferson - Key West, FL
Jefferson [NPS]
Jesup - Many, LA
Jewell - Jewell, KS
Johnson - Charleston, SC
Kaskaskia - Ellis Grove, IL
Kearny - Kearny, NE
Kent - Fort Kent, ME
King - Ocala, FL
King George - Darien, GA
King George [NPS]
Knox - Prospect, ME
Knox [Eric Boutilier-Brown]
Lamar - James Island, SC
Lancaster - Sheffield, TX
Laramie - Fort Laramie, WY
Larned - Larned, KS
Larned [NPS]
Laurens - Bolivar, OH
Leaton - Presidio, TX
Lee - Fort Lee, NJ
Lee [Patrick Tadeushuk]
Lernoult - Detroit, MI
Ligonier - Ligonier, PA
Livingston - Grand Terre Island, LA
Livingston [LA Dept. of Culture, Rec. & Tourism]
Logan - Denver, CO
Los Adaes - Robeline, LA
Loudoun - Vonore, TN
Lowell - Tucson, AZ
MacArthur - Los Angeles, CA
Mackinac - Mackinac Island, MI
Macomb - New Orleans, LA
Macon - Atlantic Beach, NC
Macon [crystalcoast.com]
Macon [State of NC]
Madison - Castine, ME
Madison - Fort Madison, IA
Mandan - Washburn, ND
Marcy - Washington, DC
Martin Scott - Fredericksburg, TX
Martin Scott [Texas Online]
Martin's Station - Ewing, VA
Massac - Metropolis, IL
Massachusetts - North Adams, MA
Massachusetts - Ship Island, MS
Massachusetts [NPS]
Massachusetts [GORP]
Mason - Mason, TX
Mason - San Francisco, CA
Matanzas - Crescent Beach, FL
McAllister - Richmond Hill, GA
McClary - Kittery Point, ME
McClary [Pete Payette]
McDermitt - McDermitt, NV
McHenry - Baltimore, MD
McHenry [NPS]
McKavett - Fort McKavett, TX
Meade - Sturgis, SD
Meade [US Bureau of Land Management]
Meigs - Perrysburg, OH
Meigs [Artcom Ltd.]
Miami - St. Joseph, MI
Miamis - Fort Wayne, IN
Miamis - Maumee, OH
Michilimackinac - Mackinaw City, MI
Mifflin - Philadelphia, PA
Mission San Luis - Tallahassee, FL
Mitchel - Hilton Head Island, SC
Monroe - Hampton, VA
Monroe [Phil Payette]
Montgomery - Rouses Point, NY
Morgan - Gulf Shores, AL
Morgan [Andy Bennett]
Morgan, Endicott period [Andy Bennett]
Morris - Sunbury, GA
Morris [NPS]
Mose - St. Augustine, FL
Mott - Salem, NJ
Mott [Patrick Tadeushuk]
Moultrie - Sullivans Island, SC
Moultrie [NPS]
Nashborough - Nashville, TN
Negley - Nashville, TN
Necessity - Farmington, PA
New Salem - Salem, WV
Niagara - Youngstown, NY
Niagara [Neal Thomsen]
Nisqually - Tacoma, WA
Norfolk - Norfolk, VA
Norton - Rome, GA
O'Brien - Machias, ME
Ogden - Arcadia, FL
Okanogan - Monse, WA
Old Fort Western - Augusta, ME
Old Las Vegas Mormon Fort - Las Vegas, NV
Omaha - Omaha, NE
Ontario - Oswego, NY
Ontario [S.R. Smith]
Ord - Monterey, CA
Ord [Charles Swann]
Ord [US Army]
Osage - Sibley, MO
Ouiatenon - Lafayette, IN
Owen - Stevensville, MT
Owen [Travel Montana]
Palmetto - Charleston, SC
Parker - Groesbeck, TX
Phantom Hill - Abilene, TX
Phil Kearny - Story, WY
Phil Kearny [Bozeman Trail Assn.]
Pickens - Pensacola Beach, FL
Pickens [NPS]
Pickens [GORP]
Pickens [Richard Latner]
Pickens [Andy Bennett]
Pickens, Endicott period [Andy Bennett]
Pickens, WW2 period [Andy Bennett]
Pierre Chouteau - Fort Pierre, SD
Pike - New Orleans, LA
Pike [Andy Bennett]
Pike [Maritime New Media]
Pillow - Henning, TN
Pitt - Pittsburgh, PA
Point - San Francisco, CA
Pontchartrain - Detroit, MI
Popham - Popham Beach, ME
Popham [Eric Boutilier-Brown]
Pownall - Stockton Springs, ME
Presidio of San Francisco - San Francisco, CA
Prickett - Fairmont, WV
Proctor - Shell Beach, LA
Pulaski - Tybee Island, GA
Pulaski [NPS]
Raleigh - Manteo, NC
Randall - Fort Randall, SD
Randolph - Pineville, LA
Recovery - Fort Recovery, OH
Reno - Washington, DC
Revere - Hull, MA
Rice - Fort Rice, ND
Richardson - Jacksboro, TX
Ridgely - Fairfax, MN
Ridgely [NPS]
Roberdeau - Skelp, PA
Robinson - Chadron, NE
Rock - Fort Rock, OR
Ross - Jenner, CA
Ross [State of CA]
Ross [Sara Nathanson]
St. Anne - Isle la Motte, VT
St. Charles - Magnusson Island, MN
St. Frederic - Crown Point, NY
St. Jean Baptiste - Natchitoches, LA
St. John - New Orleans, LA
St. Joseph - Niles, MI
St. Louis - Victoria, TX
St. Philip - Triumph, LA
St. Vrain - Greeley, CO
San Felipe - Parris Island, SC
San Jacinto - Galveston, TX
San Marcos de Apalache - St. Marks
Sandusky - Sandusky, OH
Saulsbury - Slaughter Beach, DE
Schuyler - Bronx, NY
Scott - Fort Scott, KS
Screven - Tybee Island, GA
Selden - Radium Springs, NM
Selden [Museum of NM]
Sewall - Marblehead, MA
Sill - Lawton, OK
Simcoe - Yakima, WA
Simcoe [State of WA]
Sisseton - Lake City, SD
Slocum - Washington, DC
Smith - Fort Smith, AR
Snelling - Minneapolis, MN
Southwest Point - Kingston, TN
Stark - New Castle, NH
Steilacoom - Lakewood, WA
Steuben - Steubenville, OH
Stevens - Astoria, OR
Stevens [NW Hist. Military Society]
Stevens - Washington, DC
Stockton - Fort Stockton, TX
Stockton [LWF Publications]
Sullivan - Seavey's Island, NH
Sumner - Fort Sumner, NM
Sumter - Sullican's Island, SC
Sumter [NPS]
Sumter [GettysburgFlag.com]
Sumter [GORP]
Sumter [onlineguides.com]
Sumter [Richard Latner]
Supply - Fort Supply, OK
Taber - New Bedford, MA
Terrett - Sonora, TX
Tejon - Lebec, CA
Ticonderoga - Ticonderoga, NY
Ticonderoga [Jim Millard]
Ticonderoga [Neal Thomsen]
Tidball - Long Island, AK
Tilden - Queens, NY
Totten - Queens, NY
Totten - Washington, DC
Toulouse & Jackson - Wetumpka, AL
Towson - Fort Towson, OK
Travis - Port Bolivar, TX
Trumbull - New London, CT
Tyler - West Point, GA
Union [Museum of NM]
Union [NPS]
Union - Williston, ND
Vancouver - Vancouver, WA
Vasquez - Platteville, CO
Verde - Camp Verde, AZ
Verde [State of AZ]
Wadsworth - Staten Island, NY
Walla Walla - Walla Walla, WA
Walla Walla [Clackamas Ed. Services District]
Walla Walla [NW Hist. Military Society]
Wallace - Wallace, KS
Ward - Alexandria, VA
Ward - Bainbridge Island, WA
Washington - Cincinnati, OH
Washington - Fort Washington, PA
Washington - Fort Washington, MD
Washington [NPS]
Washington - Pierce's Island, NH
Washita - Durant, OK
Watson - Santee, SC
Wayne - Detroit, MI
Wayne - Fort Wayne, IN
Wetherill - Conanicut Island, RI
Wetherill [J.M. Gould]
Wilkins - Copper Harbor, MI
William Henry - Lake George, NY
William Henry [Mannix Marketing]
Williams - Cape Elizabeth, ME
Wolcott - Newport, RI
Wool - Hampton, VA
Worden - Port Townsend, WA
Worden [State of WA]
Worden [NW Hist. Military Society]
Yargo - Winder, GA
Yellowstone - Mammoth Hot Springs, WY
Zachary Taylor - Key West, FL
Zachary Taylor [Andy Bennett]
Zarah - Great Bend, KS
Zeller - Newmanstown, PA




Did I forget one? Please tell me!